m. 11 Aug 1927, Lansing, MI
bd. 12 Feb 1904, 15 Th Ave. , Cordele, GA
occ. College Professor, Author
edu. BS, 1925, Asbury College; Honorary LLD, 1968, Ferris State
rel. Methodist
dd. 27 Jul 1974, Big Rapids, MI
brd. Highlandview Cemetery, Big Rapids, MI
bd. 22 Sep 1905, Newton, IA
occ. Choir Director, Housewife, Reporter, Piano Teacher, High Sch
edu. B.A. Music And English, Assoc. Arts, Arts And Crafts Asbury
rel. Congregational
dd. 10 Jul 1981, Big Rapids, MI
brd. Highlandview Cemetery, Big Rapids, MI

Children:
---
Contents * Index * Surnames * Contact
Chrismas Card Photographs: These are almost letter sized pages of several photographs with descriptions that were sent out at christmas. The negatives of these where found at the home of James Covington after his passing, and were scanned at 200dpi as jpegs.
Family Pictures:
The Gravesite at Highlandview Cemetery in Big Rapids: James (Jim) in the foreground, Roy and Dorothy in the center, and Roy Jr. (who was stillborn) in the back. Because Jim was cremated, the stone was able to be placed on the same plot as his parents.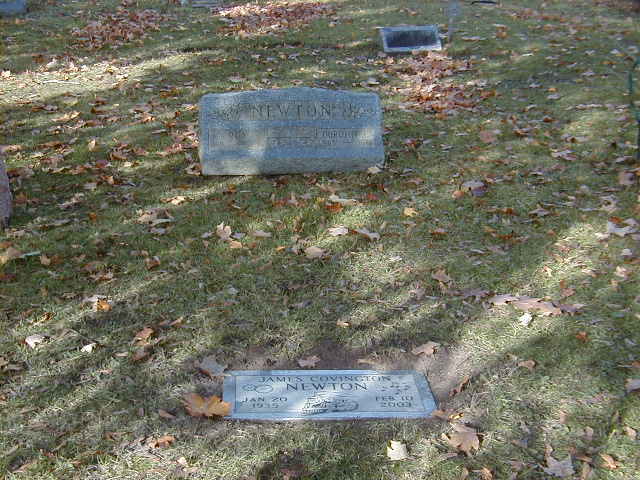 Among the papers I filed this weekend [January 3, 1998], I found my Grandfather Crammond's scrapbook for years starting in 1899, when he was a music student. One of the interesting clippings in it was from the Newton, Iowa, newspaper, dated January 20, 1909. He had written at the top: "Dorothy's age 3 yrs 4 months". (Mom was born September 22, 1905, in Newton, Iowa.)
=============================

INFORMAL RECEPTION
Rev. O. F. Weaver and Mrs. Weaver are Given a Warm Welcome by Their Church People

Those who gathered at the Lutheran church last evening for the reception which was given for the pastor, O. F. Weaver and Mrs. Weaver were delighted with the pleasant happy affair and enjoyed the musical program which was exceptionally pleasing.

The music for the evening was furnished by the Davis Orchestra composed of George Sells Davis and his daughters, Marie and Helen, a flute solo by Mr. Davis, piano duet by Prof. C. C. Crammond and Ralph Moore and vocal solos by Miss Lillian Jasper and Dorothy Crammond.

The orchestra numbers were most pleasing. Miss Jasper sang a pretty song and responded to an encore. It is needless to say that the flute solo by Mr. Davis was enjoyed. The piano duet by Prof. Crammond and Ralph Moore was another pleasing number but the star of the evening was little Dorothy Crammond who has a beautiful voice and with her father as accompanist sang sweetly one verse of her song. Everyone was pleased and cheered for the tiny girl. This frightened her so that it was just a little hard for her to sing the second verse but she did so, and was cheered again.
+
See also:
---
---
©2019 These pages are served without commercial sponsorship. (No popup ads, etc...).Bandwidth abuse increases hosting cost forcing sponsorship or shutdown. This server aggressively defends against automated copying for any reason including offline viewing, duplication, etc... Please respect this requirement and DO NOT RIP THIS SITE. Questions?
<A HREF="http://www.sxlist.com/techref/other/newtons/wc01/wc01_003.htm"> Newton Internet Family Tree - Roy and Dorthy -1927-81</A>
---
Did you find what you needed?
---
| | |
| --- | --- |
| | Welcome to www.sxlist.com! |
.