Someone, who knew in advance of the 9/11 attack, made money on the stock market by selling short on affected stocks.
We have never been told who. We the people have never demanded to know.
Bloomberg data show that on 6 September, the Thursday before that black Tuesday, put-option volume in UAL (United Airlines) stock was nearly 100 times higher than normal — 2,000 versus 27 on the previous day.
On 6 and 7 September, the Chicago Board Options Exchange handled 4,744 put options for United Airlines' stock, translating into 474,000 shares, compared with just 396 call options, or 39,600 shares. On a day that the put-to-call ratio should have been roughly 1:1 (no negative news stories about United had broken), it was instead 12:1.
On 10 September, another uneventful news day, American Airlines' option volume was 4,516 puts and 748 calls, a ratio of 6:1 on yet another day when by rights these options should have been trading even.
No other airline stocks were affected that week — only United and American were shorted.
The Chicago Board Options Exchange is investigating (?) each of these trades and at this time is declining to offer comment on its progress. They know that Martha Steward had deception on her mind when she sold her IMC stock, but they don't want to tell us who new we were going to be attacked? The American people are idiots if they arn't calling for answers on this.
Is it possible to trade stock without identifying oneself? Did someone front for the terrorists? Has anyone else heard more recent news on this investigation?
Check for yourself:
http://search.cnn.com/pages/search/basic.jsp?QuerySubmit=true&Page=1&QueryText=stock+trade+before+911
See also:
http://www.snopes.com/rumors/putcall.htm This is NOT an urban legend.
Schoolman, Judith. "Probe of Wild Market Swings in Terror-Tied Stocks." [New York] Daily News. 20 September 2001 (p. 6).
Toedtman, James and Charles Zehren. "Profiting from Terror?" Newsday. 19 September 2001 (p. W39).
Carpenter, Dave. "Option Exchange Probing Reports of Unusual Trading Before Attacks." The Associated Press. 18 September 2001.
UAL went bankrupt and reformed under chapter 11 as UALAQ.OB so I'm having a heck of a time getting the historical data on that one.
American Airlines is AMR Corp. Here is the historical data from Sep 5th to Sep 20th: From Yahoo
Date      Open  High  Low   Close     Volume Adj Close* 
20-Sep-01 20.10 20.25 18.40 18.45  3,226,200  18.45 
19-Sep-01 20.94 21.00 18.80 20.00  5,638,700  20.00 
18-Sep-01 19.80 20.93 19.23 20.00  7,705,700  20.00 
17-Sep-01 16.00 19.95 15.90 18.00 17,163,000  18.00 
10-Sep-01 29.95 29.99 29.25 29.70  1,314,000  29.70 
7-Sep-01  30.70 31.10 29.59 30.15  1,661,300  30.15 
6-Sep-01  31.45 31.62 31.05 31.15    841,500  31.15 
5-Sep-01  32.15 32.15 31.46 31.99    752,900  31.99 
* Close price adjusted for dividends and splits. 
 

http://web.archive.org/web/2001*/http://finance.yahoo.com
The 9/11 commision's final report makes NO mention of "stock market" or "sell short" or "put-option" in all of its 858 pages.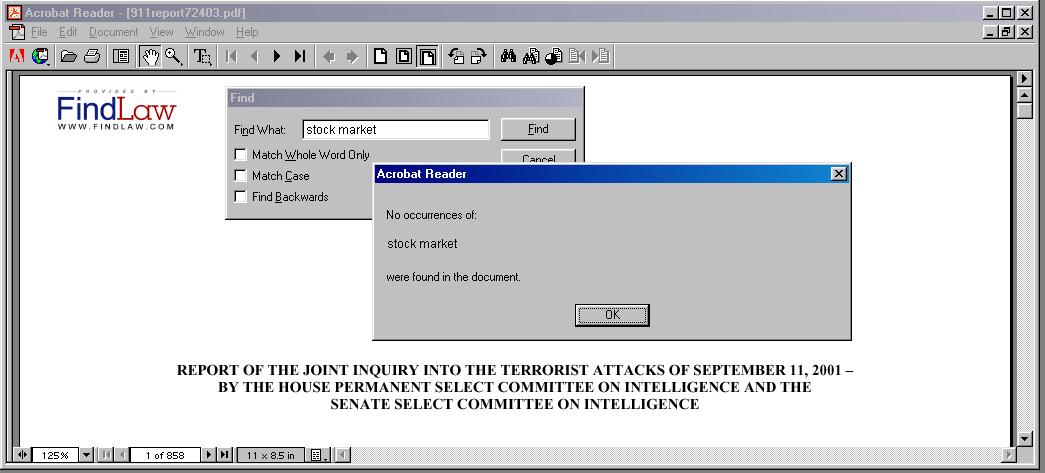 Other sites reporting related items which have NOT been verified: Please help collect and verify these reference
http://www.copvcia.com/free/ww3/10_09_01_krongard.html

A September 21 story by the Israeli Herzliyya International Policy Institute for Counterterrorism, entitled "Black Tuesday: The World's Largest Insider Trading Scam?"

10-19-2001 Wall Street Journal report

In spite of mounting evidence of a number of connections between German financial giant Deutschebank and the terrorist attacks of September 11 - including previously documented links to insider trading based upon events of 9/11 - no press agency or government entity is questioning why certain banking institutions in Kuwait and Bahrain with deep financial ties to the Bush family have been overlooked in the President's supervision of a so-called "worldwide crackdown on terrorist financing." Reuters reported on 11-7-2001 that the Treasury Department added 61 additional people and organizations to the President's original Executive Order of September 23 -- including banks in Somalia and Nassau, The Bahamas. But mysteriously, no banks in Bahrain, Kuwait, or Saudi Arabia were named in either the original order or its expansion.

Former State Department official Jonathan Weiner confirmed that Bahrain, Kuwait, Saudi Arabia, and the United Arab Emirates have been of little help to federal officials regarding known terrorist funds moving back and forth between those countries. Weiner made these statements in a National Public Radio (NPR) interview on 11-21-2001.

In another curious disclosure, the FBI also says al Shamal Islamic Bank -- Osama bin Laden's personal bank -- headquartered in Khartoum, Sudan -- which the terrorist leader helped capitalize with $50 million in private funds, "is being investigated by U.S. or overseas authorities." According to U.S. News (10-8-2001), the Bureau won't say which authority. President Bush, however, has failed to place Osama bin Laden's al Shamal Islamic Bank in his Executive Order -- freezing all of its correspondent transactions with other banks of the world. [See http://www.banking.state.ny.us/il01102a.pdf ]

http://www.copvcia.com/free/ww3/042202_bushknows.html

the trading in United Airlines stock -- one of the most glaring clues -- was placed through the firm Deutschebank/Alex Brown

The American exchanges that handle these trades, primarily the Chicago Board of Options Exchange (CBOE) and the NYSE, know on a daily basis what levels of put options are purchased. "Put options" are highly leveraged bets, tying up blocks of stock, that a given stock's share price will fall dramatically. To quote 60 Minutes from Sept. 19, "Sources tell CBS News that the afternoon before the attack, alarm bells were sounding over unusual trading in the U.S. stock options market."

- A jump in UAL put options 90 times (not 90 percent) above normal between Sept. 6 and Sept.10, and 285 times higher than average on the Thursday before the attack. [CBS News, Sept. 26]

- A jump in American Airlines put options 60 times (not 60 percent) above normal on the day before the attacks. [CBS News, Sept. 26]

- No similar trading occurred on any other airlines. [Bloomberg Business Report, the Institute for Counterterrorism (ICT), Herzliyya, Israel citing data from the CBOE]

- Morgan Stanley saw, between Sept. 7 and Sept.10, an increase of 27 times (not 27 percent) in the purchase of put options on its shares. [ICT Report, "Mechanics of Possible Bin-Laden Insider Trading Scam," Sept. 21, citing data from the CBOE].

Not a single U.S. or foreign investigative agency has announced any arrests or developments in the investigation of these trades, the most telling evidence of foreknowledge of the attacks. This, in spite of the fact that former Security and Exchange Commission enforcement chief William McLucas told Bloomberg News that regulators would "certainly be able to track down every trade."

Recently, Rep. Cynthia McKinney, D-Ga., has been widely criticized in the mainstream press for raising the need for a Congressional investigation to answer some of these obvious questions. This, in spite of the fact that popular reaction indicates a different sentiment. An opinion poll, conducted by the Atlanta Journal-Constitution just a day after McKinney's remarks received wide public attention in a Washington Post story dated April 12, was pulled after poll numbers showed that 51 percent of the respondents agreed with McKinney.
Comments:
Does the USA enforce OPEC prices? +
---
file: /Techref/other/911profit.htm,

9KB,

, updated: 2008/8/1 14:29, local time: 2023/6/6 10:00,
---
©2023 These pages are served without commercial sponsorship. (No popup ads, etc...).Bandwidth abuse increases hosting cost forcing sponsorship or shutdown. This server aggressively defends against automated copying for any reason including offline viewing, duplication, etc... Please respect this requirement and DO NOT RIP THIS SITE. Questions?
<A HREF="http://www.sxlist.com/techref/other/911profit.htm"> Somebody involved in the stock market knew in advance and made money off the 9/11 attack. </A>
---
Did you find what you needed?
---
| | |
| --- | --- |
| | Welcome to www.sxlist.com! |
.