Writing (and rewriting) on CD
A Compact Disc Recordable (CD-R) drive allows computer users to write to a CD, but only once. CD Rewritable (CD-RW) drive allows users to erase discs and reuse them, but the media doesn't work in many players. Using a CD-R driver the user inserts a special CD made of reflective gold, instead of aluminum used in most audio CDs.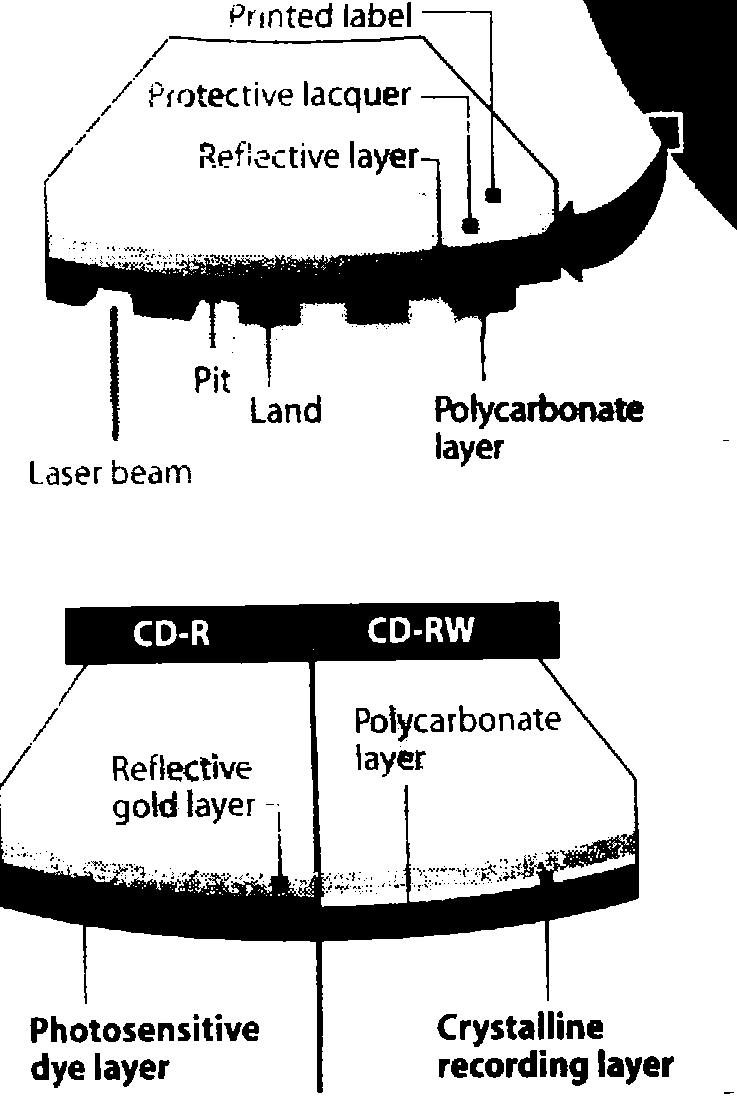 Reading a CD
Premanufactured CD-ROMs have Pits or grooves, inscribed into the bottom polycarbonate layer of the CD
in reading a CD, a stereo or computer shoots a laser across the pits and areas that have not been inscribed, called lands
Changes in the time it takes the laser to reflect back from the CD surface translate as either a 1 or 0 in binary code.
'Burning' a CD
Unlike premanufactured discs, CD-R uses photosensitive dyes that become opaque when written, or bumed, by a laser. Instead of using the pitiland system, the laser reads what's reflective and what's non-reflective to translate data.
Once inscribed, a CD-R cannot be erased or rewritten, but it can be read by any CD-R or CD-ROM drive.
A CD-RW's recording layer transforms from crystalline (which is reflective) to noncrystaline (which is nonreflective) when a laser inscribes information.
The process is reversible, allowing a CD-RW to be written and rewritten indefinitely
The World Library 3rd Edition CD-ROM includes 3,500 books, stories, plays, poems, documents and scientific works. The information takes 600 million bytes of space. CDs can hold up to 650 million bytes of data (650 MB).
Burning 650 MB of data takes about 74 mintes at 1x, 37 minutes at 2x, and 19 minutes at 4x, but you have to add a minute or two to finalize the disc. Remember that single speed is 150 KB per second, double speed is 300 KB per second, and so on.
Imagine being able to record all your favorite music onto a compact disc for free and play it back in your car while going to work.
Or imagine taking all those bulky data files that have been clogging up your hard drive and transferring them to a single compact disc. The data is safe because the life expectancy of the disc is more than 100 years.
Welcome to the new world of CD-R technology, where laser beams burn data straight onto the lacquer-backed organic dye of a compact disc. The new technology promises to revolutionize the music industry as well as remake the way files are stored and exchanged.
Experts say that the CD-R could very well become the next floppy disk, replacing a venerable, if outdated, storage medium.
Recorders for the CD-R have dropped in price and the sales of recordable discs have taken off, with about 150 million discs shipped last quarter, according to john Freeman, president of Strategic Marketing Decisions Inc., a storage market research firm in Los Gatos.
We're getting to the price point where people are considering this a cost-effective home entertainment component," Freeman said. "And, the software has become almost foolproof
Manufacturers will ship about 100 million CD-R drives next year, Freeman said. They will create discs capable of being read by the almost 1 billion total CD players that exist in this country, he said.
Since it was introduced in 1991, prices for CD-R technology have plummeted. CD writing machines back then were about $40,000 and blank discs were $80. And, the technology wasn't all that great.
Today, a CD recorder can cost as little as $250 and discs are $2 for data-only recording. "The technology has gotten better," said Roy Worthington, president of Octave Systems, a Silicon Valley company which specializes in the sale of CD recorders, software and media. 'The reflectivity of material has gotten better," Worthington said, "as well as the recorders which make the discs."
Phonograph technology
CD-R technology may seem a bit mysterious, like something they used to make Darth Vader's light saber glow pink in the "Star Wars" movies. Actually, the writable compact disc is a distant cousin to the wax cylinder phonograph invented by Thomas Edison more than 100 years ago. Most people are familiar with music CDs and the mechanics of the CD-R are about the same. A standard CD-ROM (compact disc—read only memory) is stamped out at a duplication factory. It can hold 650 megabytes of data, equivalent to about 250,000 pages of text or 20,000 medium resolution images. Or it can hold about 70 minutes of audio, enough for the Spice girls' latest album. Writable CDs come from the factory blank and can be written onto a single time. Once "burned," a CD-R can never be changed. An advantage to the write-once technology is the stability of the media. It is unaffected by magnetic fields, unlike standard floppies which can be badly distorted by simple magnets. A hybrid of the writable disks is the CD-RW, which enables users to write onto them over and over again. However, the discs cannot be played on most CD players
This erasable CD uses a different kind of data-bearing layer than other compact discs. The CD-R alters the state of the recording laver from crystalline to non-crystalline, turning areas off and on. An area that has already recorded data can be turned on again and written over multiple times.
A few sour notes
The CD-R audio applications have created quite a stir in the $12 billion a year music industry. Almost 2 million music fans have skipped the music store and instead downloaded their favorite tunes directly from the Internet, according to PC Computing magazine. All CHAR discs and disc recorders marketed for audio recording must have the Serial Copy Management System (SCMS), which is designed to protect the music industry's copyrights. (CHAR discs for audio recording are about $5, instead of $2.) However, the data-onLy discs, designed to be used in PCs, are also being used to download music.
As a result, pirate music sites have blossomed like revolutionary anarchists, growing almost as fast as the ones that provide so called adult entertainment."
Anyone with a CD-R drive can pluck the top hits from the Web, burn them onto their own CD and play it in the car during the daily commute. Music moguls have fought back, but it's probably too late to ferret out all pirate sites from the Web labyrinth, according to Andy Marken, of Marken Communications Inc., a Silicon Valley sales and communications firm.
From digits to dust
There was controversy created by an article this April in Business Week, which challenged the CHAR manufacturers' claims of at least 100-year durability. The article stated that the actual CD life span is closer to five to 10 years. Scientists fought back, saying that the article used outdated charts and the longer life spans were accurate.
There is anecdotal evidence that CDs are pretty stable: Tons of nearly 10-year-old music CDs are still cranking out the tunes. On another front, the CD-R tech nology is being challenged by the launch of recordable DVD (digital video disc). The DVD is a sort of "super" CD, with enhanced storage capacity. A single DVD can hold a 90-minute movie or four hours of audio.
However, it isn't here yet. Experts agree that the new CD-R technology should dominate the mass storage market for the next three to five years—an eternity in the Information Age. At this point, no home DVD recorder is available. Manufacturers are concentrating on producing mass-market disks for DVD players, like movies or mixed media, rather than shipping personal DVD recorders.
"Everybody was saying a while back that CD was dead," Marken said. "Suddenly, the DVD technology did not come along as fast and CD found an open window" of opportunity.
"The software is improved so that even kids can use it. And the downside to CZAR (technology) is there is none. It should be around for quite a while," Marken said.
See also:
---
file: /Techref/cdrs.htm,

8KB,

, updated: 2004/10/1 21:21, local time: 2023/12/3 19:07,
---
©2023 These pages are served without commercial sponsorship. (No popup ads, etc...).Bandwidth abuse increases hosting cost forcing sponsorship or shutdown. This server aggressively defends against automated copying for any reason including offline viewing, duplication, etc... Please respect this requirement and DO NOT RIP THIS SITE. Questions?
<A HREF="http://www.sxlist.com/techref/cdrs.htm"> Compact Disks</A>
---
Did you find what you needed?
---
| | |
| --- | --- |
| | Welcome to www.sxlist.com! |
.