Potentiometers, or Pots, are simply resistors made with the resistive material exposed, and a wiper riding on it to a third, center, tap. The makes the pot effectivly into two serially connected resistors, with a variable dividing point between them.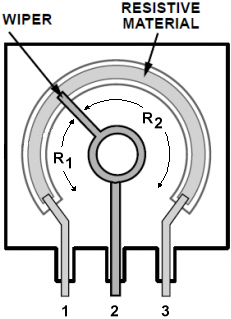 Construction of a potentiometer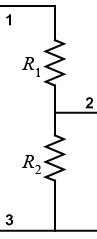 Effective circuit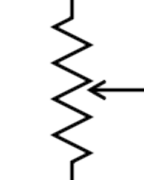 Potentiometer symbol
To use a pot as a single resistor of variable value, simply connect one end, and the wiper. E.g. 1 and 2 in the picture, or 2 and 3, leaving the remaining pin unconnected or "floating".
Pots are commonly used as input devices, either to adjust the resistance in a circuit, or to develop a variable voltage... the voltage is made by connecting the ends (pins 1 and 3) to power and ground, and the voltage is then collected on the wiper (pin 2). As the wiper is moved, the voltage on pin 2 will change from ground to full voltage and back.
The resistive material can be of consistant value, resulting in a linear change in resistance or it can be made in such a way that the resistance changes expotentially from one end to the other. This logarithmic change is useful for volumn control where small movements at the start should make a large difference in the sound, and changes along with way should have less effect.
---
file: /Techref/potentiometers.htm,

2KB,

, updated: 2016/8/12 16:44, local time: 2023/12/7 14:42,
---
©2023 These pages are served without commercial sponsorship. (No popup ads, etc...).Bandwidth abuse increases hosting cost forcing sponsorship or shutdown. This server aggressively defends against automated copying for any reason including offline viewing, duplication, etc... Please respect this requirement and DO NOT RIP THIS SITE. Questions?
<A HREF="http://www.sxlist.com/Techref/potentiometers.htm"> Potentiometers</A>
---
Did you find what you needed?
---
| | |
| --- | --- |
| | Welcome to www.sxlist.com! |
.